WARNING: Howl's Moving Castle Wiki contains major spoilers! Read at your own risk.
Featured Character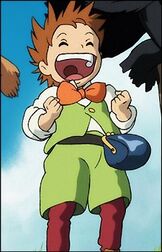 Markl is Howl's apprentice, living with him in his castle. He is shown, at first, to be doubtful about Sophie's intentions when she arrives at the castle, but he soon grows to love her as they stay together all day in the castle while she cleans and he sells spells and magic to the civilians.

Read more about Markl in Howl's Moving Castle the Movie, by clicking here.
Movie Trailer
Featured Location
Porthaven - a seaside village where Howl lives after arriving in Ingary .
Featured Quote
"It's your life, Sophie. Do something for yourself for once, will you?"
Featured Novel
House of Many Ways is a novel by Diana Wynne Jones (

1934- 2011)

It is a sequel to Castle in the Air.